In July Lefroy Valley held an inaugural Tomato Showcase.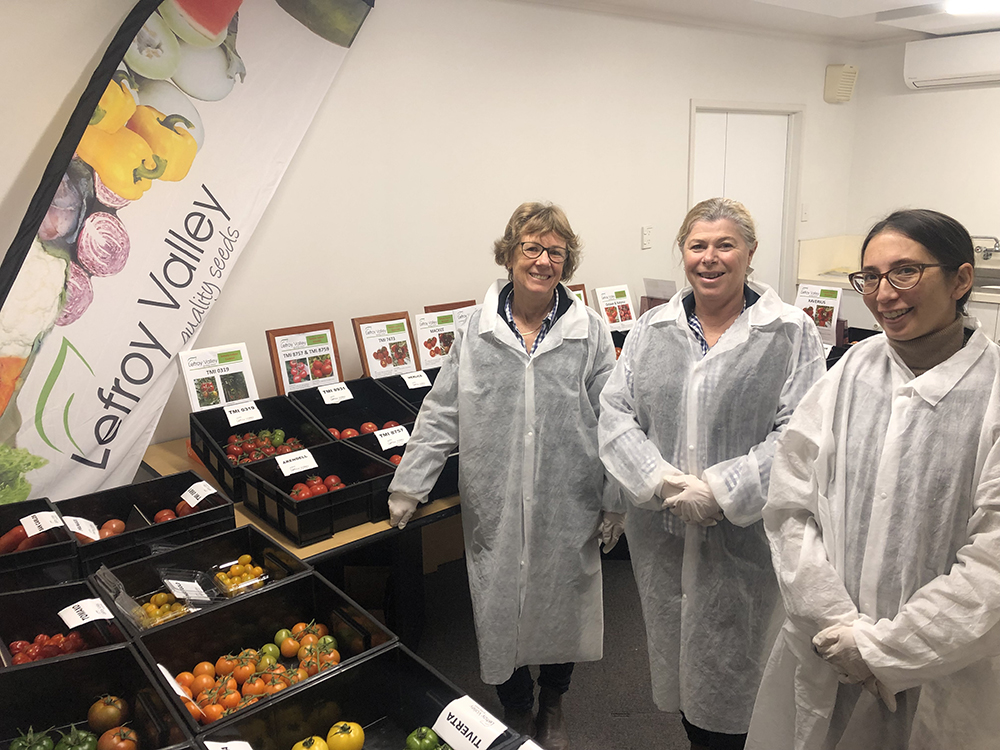 With the discovery of Pepino Mosaic virus in New Zealand, the opportunity to visit greenhouses growing tomatoes has become difficult while growers develop protocols and hygiene practises to limit the virus's spread.
There is nothing better for a grower than seeing actual fruit of new varieties in the flesh rather than just from a glossy brochure.
To enable growers to see new tomato varieties – and some that are familiar to them, Lefroy Valley brought the European style of tomato demo houses to NZ with our latest showcase.
We asked growers to make an appointment time and don full PPE on arrival to make sure we did not enable the virus to spread grower to grower or fruit to grower.
Of the 50+ varieties on display we had a range of mixed coloured cherry and mini plums, roma, coloured rounds, cocktails, heirlooms also in a brilliant range of colours, red gourmet and small beef steak types.
Also on display we had gourmet lines Provine and Xaverius each grown ungrafted in low tech houses, grafted in low tech greenhouses, and grafted in high tech environments. It was interesting to see how different fruit size and quality were.
Often flavour is over looked because kilos is what brings in the money. During the showcase we could have growers sample lines to taste how much better they were when compared to the market standards. New varieties are now competitive when measuring kilos so why wouldn't you want to grow a better flavoured line?
Gourmet lines Xaverius, Lancaster and Provine all have as high production but better flavour than current market standard!
The gourmet sector is the largest part of the tomato market so our breeders are working hard to develop tomatoes for this segment. Our breeders from Axia, Gautier and Nunhems have fruit quality, flavour and production as the most important characteristics. Plant style and disease resistances form the next tier of requirements. Xaverius, Lancaster and Provine are just 3 of the gourmet varieties we have on offer for medium to high tech greenhouses for both truss and loose picking.
Growing in lower tech greenhouse there are some varieties still in use 20 years on! Replacing these old varieties are 2 new ones – Octave and Natyssa with much better disease resistance, fruit size and shape.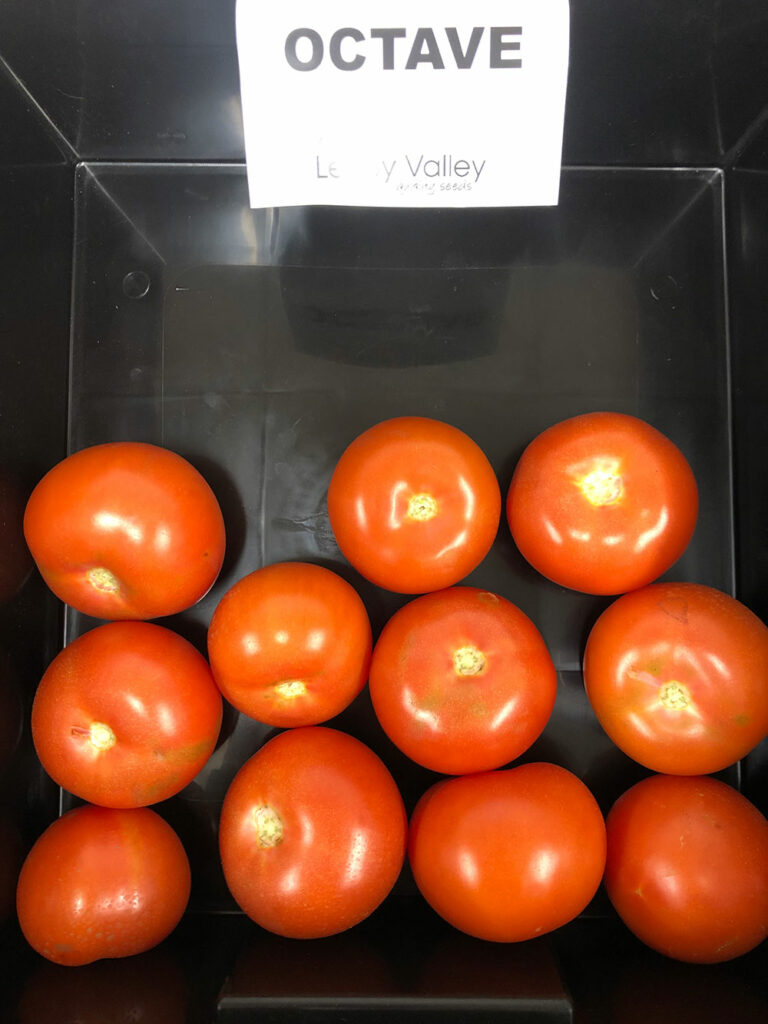 The small beef steak on display were between 170 – 200gm for high tech grafted lines. These tomatoes are multi locule, fleshy and surprisingly flavourful for the size they are. To demonstrate the difference grafting can make, ungrafted Maranx and TMI 9011 (loose fruit sitting in the bottom of their display boxes) only achieved 140 – 160gms.
TMI 0319 is a super tasty cocktail  of 60-70gm on a well presented truss. Even after 10 days of being on display fruit were still firm and glossy.
Next time you are considering what to plant, give Janine 0274438024 or Paula 021731009 a call – we are sure to have great options no matter what fruit size, shape or colour you are looking for.