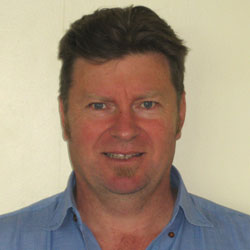 Warren Hobson has over 20 years of experience within the horticultural industry.
Warren first joined Lefroy Valley in 2000 as Manager for Product Development & Sales of Protected Crop products coming from a previously similar role with another seed company.
After 2 1/2 years with LVNZ Warren moved to Lefroy Valley Australia based in Melbourne to take on the role of National Product Manager for Processing Crops and Sales Manager for Southern Australia. Warren spent 5 years in Melbourne before returning to his present role at Lefroy valley NZ in March 2008.
Warren's extensive industry experience includes biological control and pollination, growing media in the greenhouse industry and landscape design. Warren has the challenge of developing Specialty Agricultural Products for Lefroy Valley and is heavily involved in trials and promotion of new varieties.
Warren's crop focus is on capsicum, summer crops (beans, zucchini, melons and sweetcorn), mesculin and the processing industry. Warren covers Northland, Waikato, Canterbury, Nelson and some Franklin growers.
Warren has a passion for the horticultural industry. Warren enjoys building strong relationships through providing good service and quality products creating a win win for the grower and LVNZ alike.
Email Warren | Phone: 0274 949-994